The St. John School Jog-a-thon presented by KAVU is coming September 21, 2018!
This is a super fun event for the whole school and an important fundraiser for St. John. We'll have music and some give-aways to motivate us, along with fruit, snacks and water. Students can wear crazy socks and free dress to show their spirit as they run, jog or walk to raise money for St. John. More information will be provided on this webpage and at our Jog-a-thon Assembly on September 7th.
We will need a few volunteers to help us throughout the day- use the link below to see how you can help us have a successful and fun event.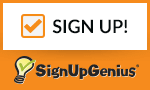 Thank you Sponsors!